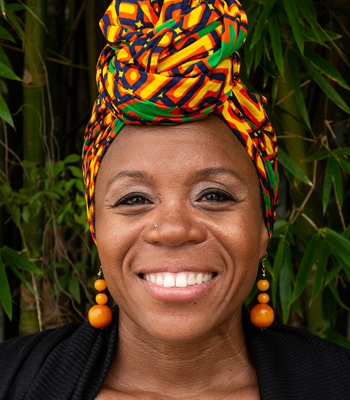 Julia E. Torres (she/her/ella)
"As a current ELA teacher and librarian, my goal is to support students, authors, and educators in seeing and actively participating in the intersections. I believe we are most empowered and free when we are of service to one another. I also believe we are most able to actively disrupt systems of oppression when we step into the creator, learner, and teacher within each of us, encouraging others to do the same."
Julia E. Torres is a secondary librarian and Language arts teacher focusing on developing literacy programs for readers in grades 6-12. She is currently a secondary language arts teacher within the Far Northeast region of Denver Public Schools.
Over the last eighteen years, Julia has taught in small, medium, and large districts, throughout the Western United States. Her ELA teaching career has included teaching every grade from 7th grade English up through advanced courses including World Literature and AP English Language and Literature. Julia has also taught Creative Writing, Ethnic Studies, and African-American Literature through University of Colorado Denver's Upward Bound pre-collegiate summer academic institute, Diversity in Children's Literature as adjunct faculty for Metropolitan State University and College Composition with Community College of Aurora.
Julia has also served Colorado language arts teachers as the Vice-President and President of the regional NCTE affiliate–The Colorado Language Arts Society, she has served Language Arts teachers as NCTE Secondary Representative-at-Large and is currently on the Board of Directors for ALAN (Assembly on Literature for Adolescents of NCTE).  In her work as a member of Educolor's steering committee, Julia serves as director of strategic partnerships and alliances coordinating virtual events and managing special projects.
Julia is a co-founder of DisruptTexts.org, as such, she has co-edited a quarterly column for NCTE's English Journal, facilitated discussions about disrupting the literary canon, and continues to write curriculum guides and deliver professional development to support teachers looking to engage in the work of transforming literacy practices. 
In 2020, Julia became the host and creative director for the BookLove Foundation Podcast. Through her work as a BookLove Foundation board member, Julia supports teachers and librarians' adaptation to the changing role of school libraries and the intersection between traditional and digital literacy. Julia also regularly hosts conversations pertaining to the formation of reading identities among secondary education students in all environments, particularly under-resourced urban school districts.
Julia continues to facilitate workshops and online professional development for librarians and literacy educators in the United States and around the globe. She is also co-author of the ILA brief The Essential Leadership of School Librarians. Her debut co-authored title Liven Up Your Library: Design Engaging and Inclusive Programs for Tweens and Teens was published by ISTE publications in 2022. Julia's writing and online content development has also been featured in on and offline publications from NCTE's Council Chronicle, NPR, AlJazeera's The Stream, PBS Education, KQED's MindShift, NY Times Learning Network, The Chicago Tribune, ASCD's Education Update, Rethinking Schools, School Library Journal, and many more.
These days Julia is often found in and around the many national parks, trails, and walkways local to Denver and her beloved Rocky Mountains. She loves spending time on the couch with her dog Shorty, cat Maisie, her two children, or dropping everything to read the latest Advanced (or Digital) Reader's Copy of a new title from one of her favorite authors.
Book Julia
If you're interested in having Julia visit your school or attend your event, or if you have a general question about Julia, please fill out the following form: