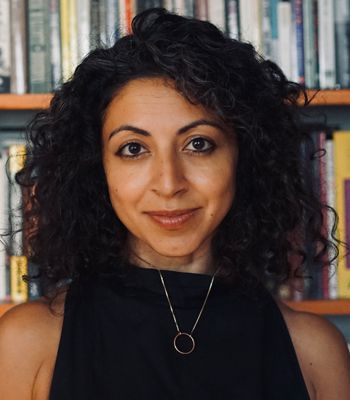 "My approach as a mother, educator and writer is to find beauty and joy in our learning journeys, everywhere we can. It is my honor to support schools in using holistic methodology to grow readers, writers and thinkers to build on their authentic curiosities and experiences — ultimately fostering a deep belief in themselves and their important, individual stories."
Nawal Qarooni is an award-winning journalist and literacy instructor with experience in New York City and Chicago schools. Forever passionate about growing readers, writers and thinkers, Nawal worked as a classroom teacher, curriculum developer, and literacy coach before launching NQC Literacy in 2014. 
Nawal supports a holistic and joyful approach to literacy in dozens of schools, including Chicago Public Schools, several suburban districts and the Big Shoulders Fund Literacy Initiative, where NQC Literacy leads professional development and on-site coaching for over a dozen Catholic schools.  She teaches adjunct courses for educators at the University of New Hampshire Literacy Institutes, Brooklyn College and Bank Street School of Education's Continuing Professional Studies. Nawal is a contributing author for We Need Diverse Books, Two Writing Teachers and Choice Literacy. She writes educator guides for books she believes will make a difference in children's hands. In addition, she is a member of the National Council for Teachers of English Committee Against Racism and Bias in the Teaching of English; she evaluates manuscripts for Reese Witherspoon's LitUp program, which was designed to platform historically underrepresented voices in publishing; and she serves on the Library of Congress Literacy Awards Advisory Board, which funds powerful literacy programming across the country. Nawal's first book publication on caregiver literacy is slated for publication with Stenhouse in 2023.
Nawal holds a Bachelor of English from the University of Michigan, a Master of Teaching from Brooklyn College, and a Master of Journalism from Syracuse University's Newhouse School. She won a New Jersey Press Association Award for her international reporting, as a beat newspaper reporter, and transitioned into education as a New York City Teaching Fellow. Nawal lives in Jersey City, is an avid reader herself, and is the proud mother of four little kids, with whom she shares her zeal for words by reading aloud every day.
Book Nawal
If you're interested in having Nawal visit your school or attend your event, or if you have a general question about Nawal, please fill out the following form: