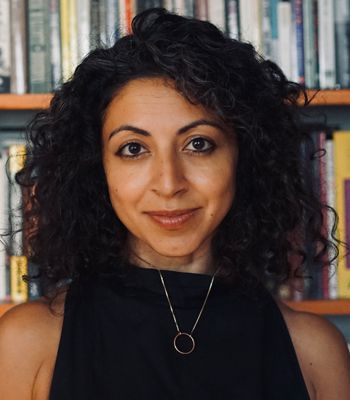 "My approach as a mother, educator and writer is to find beauty and joy in our learning journeys, everywhere we can. It is my honor to support schools in using holistic methodology to grow readers, writers and thinkers to build on their authentic curiosities and experiences — ultimately fostering a deep belief in themselves and their important, individual stories."
Nawal Qarooni is an educator and writer who works in learning spaces to support a holistic model of literacy instruction. She works with teachers and school leaders to grow a love of reading and composition in ways that exalt the whole child, their cultural capital and their intrinsic curiosities. She is the proud daughter of immigrants and mothering her four young kids shapes her understanding of teaching and learning.
In her daily literacy coaching and school-based support, Nawal draws on her years as a middle-grades classroom teacher and professional writer, as well as her love of photography and connection to nature. She is a member of the National Council for Teachers of English Committee Against Racism and Bias in the Teaching of English; she evaluates manuscripts for Reese Witherspoon's LitUp program, which was designed to platform historically underrepresented voices in publishing; and she serves on the Library of Congress Literacy Awards Advisory Board, which funds powerful literacy programming across the country.
Nawal's recent projects include researching and designing a family literacy program for Chicago Public Schools, designing family lab sites in Los Angeles and Orange County schools through the Cotsen Foundation, and authoring a forthcoming book on caregiver literacy.
She is a former international newspaper reporter, writes educator guides for children's books she believes in, and is a contributing writer for We Need Diverse Books.
Book Nawal
If you're interested in having Nawal visit your school or attend your event, or if you have a general question about Nawal, please fill out the following form: