Meet Michele Weisman,
The Founder of Meet the Writers!
Written by Alley Horn for The Author Village
In 2015, Michele Weisman launched a pilot literacy program that brought three visiting authors into one Title 1 New York City middle school. Seven years later, Meet the Writers is a growing nonprofit that has reached more than 35,000 students citywide through more than 200 author visits and has distributed nearly 20,000 books to students.
Recently, I hopped on a call with Michele Weisman, Founder and Executive Director of Meet the Writers, to learn more about the program's history, practice, impact, and future. Check out our conversation.
What is the Meet the Writers origin story?
I had been working in children's publishing for 25 years—for Sesame Workshop, Time for Kids, and Highlights for Children—but I was looking to change what I was doing.
I decided that I wanted to serve literacy more directly, but I didn't know how. I started talking to a lot of people. One person that I spoke with was an assistant principal at my kids' school where I had volunteered and run a literacy program. That program brought three authors to meet students in every grade each year. When I talked to the AP, she said, "There are so many underserved schools in New York City that could benefit from a literacy program like this. In fact, I know a principal at a new school in the Bronx who would jump at it."
I reached out to the principal in the Bronx and offered to start a program where I would bring visiting authors to his school. Three seconds after I sent a cold email, he replied: "YES!"
As I researched the topic, I learned that 1,300 of the 1,600 New York City Public Schools serving 1.1 million students are Title 1 (high-poverty based on the number of students eligible for free or reduced-price lunch). I saw that there was a clear need for a program like Meet the Writers to introduce students to real-life authors to help build a love for reading.
And who were some of the first authors you worked with?
One of our first authors was Torrey Maldonado, an Author Village author and author of the book Secret Saturdays. Torrey engaged students who had previously believed, "Books aren't for me. I'm not a reader. Books don't speak to my life at all."
The kids who don't think they're readers just haven't found a book that speaks to them. One of the things that I've realized over these past seven years is that Meet the Writers is more than just a literacy program. It's equally about identity and empathy. As scholar Rudine Sims Bishop coined, kids need books that are "mirrors" to see themselves reflected in stories and authors, and books that are "windows" to see into the lives of people who are different from them. When I work with schools, I curate the selection so every student, at some point, meets an author (and a book) who speaks to them.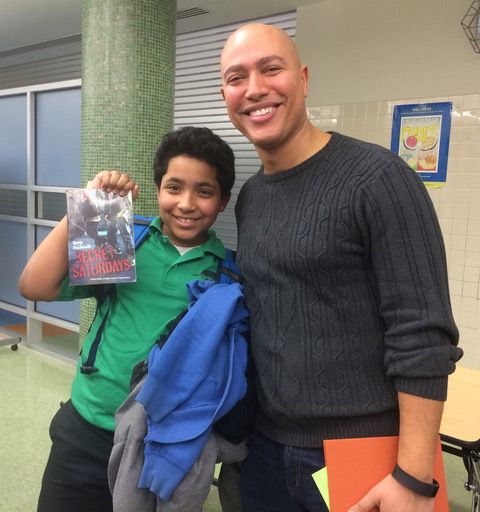 Could you talk more about how the process goes? Does the school reach out? How do you choose an author?
My first summer working on Meet the Writers, I got a list of principals at Title 1 NYC middle schools and I wrote to every single one. No response. But I was not deterred! After seven years, I have learned that recommendations from schools that we work with are the best way to grow our network of schools. Once a school works with us on even just one author visit, they often continue.
The collaboration with a school starts with questions like, "Which books are students reading? Which books are part of your curriculum?" Sometimes it's easy because a school is reading a book by an author who lives in NYC. But sometimes the books are by authors who have been dead for decades or otherwise unavailable. In those cases, I'll make a recommendation of a contemporary author. For example, I was working with a middle school in the Bronx where 8th graders were reading Farewell to Manzanar, a book about Japanese internment camps that came out in 1973. I had worked with Traci Chee, an author who wrote an incredible, award-winning YA book called We Are Not Free about Japanese internment. I said to the school, "You may not know this book, but I think Traci would be a powerful speaker and her book would resonate with your students."
And do you work with authors that aren't local to New York or is it mainly authors that are in the New York area?
We've relied heavily on local authors but also worked with some non-local authors. To book a non-local author, I reach out and say, "We can plan this when you're going to be in New York City." We hosted Cynthia Lord from Maine, Mindy McGinnis from Ohio, and Donna Cooner from Colorado. Now with virtual visits added to the mix, we've worked with authors from all over the country including Junot Díaz from Massachusetts and even Danielle Smith-Llera from Brussels!
On the virtual visits, how has Meet the Writers evolved since the pandemic?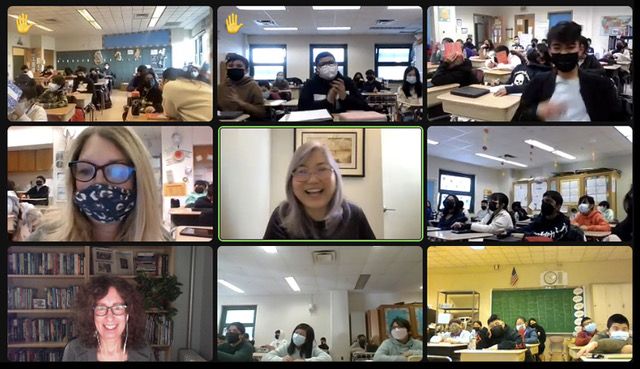 In the beginning, I believed that an experience with Meet the Writers should be in-person because I worried that a virtual experience might feel too much like a YouTube video or something the kids are watching on a screen. With the pandemic, we had to pivot to virtual visits. However, we still were able to get signed books in the hands of students by having authors sign bookplates. For example, Ellen Oh personalized 600 bookplates for a virtual visit with 6th graders in Queens who were reading her book Flying Lessons & Other Stories.
Another advantage of the virtual platform is that we can reach A LOT of kids at one time. For example, Pablo Cartaya, who recently joined us from Miami, was able to reach more than 1,000 middle school students across all five boroughs!
That's awesome. Can you talk more about the impact that Meet the Writers has on literacy and on students?
I've had principals and teachers say that when the kids know they're going to meet the author, they read the book in a totally different way. Authors speak about many topics including their journey from student to published author, who or what made a difference to them, their writing process, as well as book recommendations, and tips to aspiring authors. Through the lively exchange of ideas with inspiring writers, students become excited about books and the power of reading in their lives.
Early on, Renée Watson visited a school in the Bronx, and the reception was a little tough. A student asked Renée: "Why do you even do this? Why is this so important to you?" And Renée replied by saying, "There was a time in our country when African-American students weren't allowed to read and write. And here I am writing a book about my experience growing up. That's important to me." Her answer changed the whole tenor of the conversation.
Alright, so let's say a school is reading this article and thinks they'd like to partner with Meet the Writers. What do they need to know or have? And is there a "best time" for them to reach out?
In general, the earlier in the school year, the better! It's useful to have more time to plan.
We create a highly-customized program tailored to each school. The key element that keeps the process running smoothly is to have a point person at the school, whether it's the principal, the librarian, or an ELA teacher. The school-based partner needs to be responsive to questions like: "Which book should we read? Do you like any of these titles? The author is available these three days, do any of these work for you?" And schools need to allocate time and money for the program.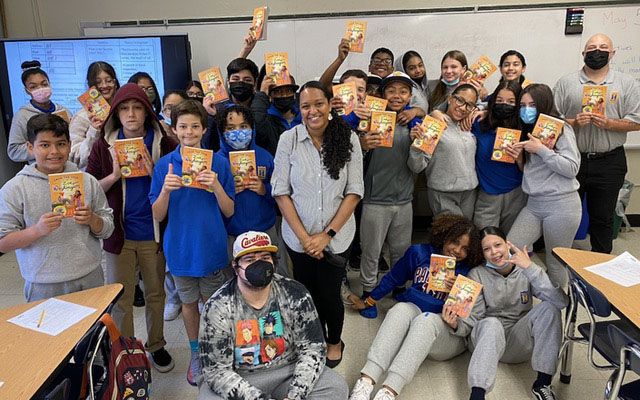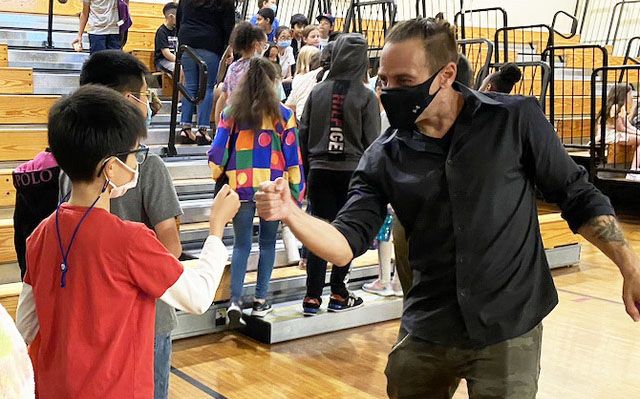 And how has it been working with the authors inside and outside The Author Village?
I am so grateful to ALL of the accomplished authors who work with Meet the Writers! It's been incredible. Authors bring their true selves to share with students. That's powerful because students understand if someone is speaking truthfully to them.
One of my goals in working with authors is to find someone who has written a great book, is a dynamic presenter, and represents a diverse voice. The Author Village is at the intersection of these three important criteria. Whenever I've found a cool, new author to work with, it often turns out that they're already part of The Author Village!
Do you know of any programs like Meet the Writers that exist in other states?
Yes! I've discovered a number of similar organizations. I've gotten to know people at An Open Book Foundation in D.C., Wondermore in Boston, and Children's Literacy Foundation in New Hampshire and Vermont. Whenever I learn about an organization, I connect with them to share best practices.
I think that's a really great way to go about strengthening both your organization and society. For my final question: What are your hopes, dreams, and/or goals for Meet the Writers in the future?
After seven years, Meet the Writers has proven that author-based literacy-programs are inspiring and impactful for students! As we grow to reach more students, I want to ensure that Meet the Writers continues to deliver a meaningful experience for every student at every school.